Bhimtal Lake
Bhimtal is one of the largest lakes around Nainital named after Bhima of Mahabharata. The beauty of Bhimtal is enhanced by a small island surrounded by crystal blue water that can be approached only by a boat and at present, it has an Aquarium there. A gaggle of ducks has made the lake their home and give company to the lake visitor. It can also be made as a center for exploring the surrounding lakes. There is a large Victorian dam at one end of the Bhimtal lake and terraced flower gardens can be found on either side. Other attractions.
Attraction And Sightseeing
Bhimeshwar Mahadev Temple
Victorian dam
Fish Aquarium on Island
Butterfly Museum
Nag Temple at Karkotaka Hill (5 Km trek)
Pilot Baba Ashram at Gethiya
Folk Art Museum – by Dr. Mathpal
Sat Tal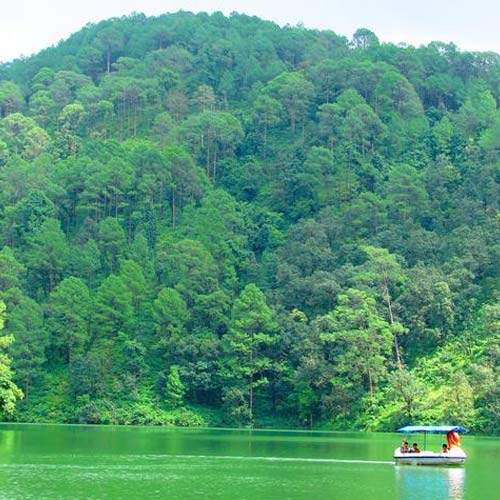 Sat Tal is a unique, unforgettable spot having cluster of lakes placed amidst the oak forest. It is comparable with Westmoreland of England. As one approach toward Sattal first lake is old Nal Damyanti Lake. On moving ahead there is the ashram of Stanley Johns an American Missionary. Next lake is Panna or Garuda lake. As we move down there is a cluster of three lakes, these lakes are Ram, Laxman and Sita lake. Other attractions
Attraction And Sightseeing
Fishing in Sattal
Birding in Sattal
Methodist Ashram
Adventure activities near Suicide Rock
Visit to Mystery Lake – Garur Tal
St. John Church
Ghorakhal temple
Ghorakhal temple famous for the temple of Lord Golu worshipped by hill people.
Attraction And Sightseeing
Tea Estate
Paragliding
Golu Devta Temple
Kainchi Dham, Bhowali
Naukuchia Tal
The beauty of Naukuchiatal is its tranquility. Surrounded by green oak forests from all sides this beautiful lake is animated by an underwater spring. The first sight of this tranquil lake is mesmerizing and eye-soothing, sure to leave you wanting for more. Naukuchiatal is also famous for a local belief as per which you can attain Nirvana if you see all nine corners of Naukuchiatal Lake from a Single Point. Naukuchiatal is a must-visit for those who love getting lost in the serenity of nature. The captivating surroundings and varied biodiversity that can be seen in the area within 10 km radius of Naukuchiatal gives it the perception of virtual heaven. It is the place where you can enjoy compilations of colorful butterflies and the beautiful variety of Himalayan birds. A pretty deep clean lake with its nine corners is a captivating sight. Length of lake is 983 mts. breadth is 693 mts & depth 40.3 mts. It is within an enchanting valley offering an opportunity of angling and bird watching. There is ample scope for rowing, paddling or yachting. Other attractions
Attraction And Sightseeing
Bhakti Dham Hanuman Temple
Adventure activities like Paragliding, Angling, Hiking, Cycling, Boating
AEPAN – NGO Centre